Ghost Ants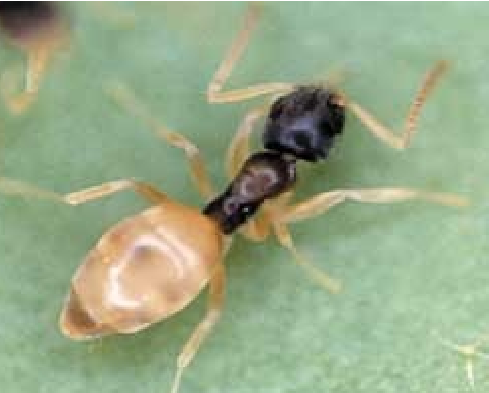 Tips on identifying Ghost Ants
Very tiny (1/16th of an inch)
Abdomen is transparent
12-segmented antenna
Head and thorax are a deep dark brown with gaster and legs opaque or milky white.
Behavior
The Ghost Ant will nest both indoors and outdoors. They will nest in mulch, grass, cereal boxes and more. New colonies are formed by budding. This occurs when a queen leaves a nest with solders and some of the brood. This generally occurs when the nest has been disturbed or if a chemical spray had been used near the  ants. Ghost Ant workers run erratically when disturbed. They feed on sweets, dead and live insects.
Ghost ant workers are extremely small, 1.3 to 1.5 mm long and monomorphic (one-sized). They have 12-segmented antennae with the segments gradually thickening towards the tip. Antennal scapes surpass the occipital border. Head and thorax are a deep dark brown with gaster and legs opaque or milky white. The thorax is spineless